Continually updated...

ARCHIVES
Wednesday, July 15, 2009
Minty; Fools
Two things: One is that an article I did about Mint.com for the paper ran in Tech Monday. It was an interview with the CEO of the company, who worked for a time in Austin for IBM and a software company. Learned a few new things about the company after having done some research on them for NPR a few months back. As soon as I carve out some time, I plan to try it out for myself.

The other thing I wanted to mention is that I just had a day where a large portion of the morning was spent dealing with a few people I literally never want to speak to ever again.

One of them was a blast from the past who came back into my life through social networks (the dreaded Facebook Echo Effect) and who I was never that eager to reconnect with in the first place. Have considered unfriending the person after they posted several snarky, out-of-context wall comments that gave me pause. I have several people I don't know very well who have made a habit posting comments frequently there. That's cool and I like the feedback (especially since I don't have comments on this site for a variety of reasons), but this person only seemed to comment when they wanted to let me know how worthless they think my opinion might be. (No idea why they don't just mute me or unfriend me if I suck so badly.) Which, actually, reminds me of why I never liked that person in the first place. My imaginary conversation with them goes like this:

Facebook "Friend": Ah, I see you're still not as clever as you think you are and nobody cares about your opinions, after all these years.

Omar: Ah, I see you're still a condescending douchebag. After all these years.

The other person I had to deal with was someone I'd already unfollowed and blocked on Twitter only to realize I hadn't done the same on Facebook, where they posted a creepy/weird comment on a status update about a mom bloggers article I wrote and then mailed me asking why I had unfriended them.

This is after they attacked me in blog posts (twice), attacked friends of mine who came to my defense on that blog, then started trying to follow other friends of mine (whom they would otherwise have had no way of knowing -- these people live far away and are not otherwise connected) on Twitter once I blocked them.

And then they wondered why I didn't want to be friends on Facebook.

What followed was a regrettable back-and-forth over Facebook messages that got progressively nastier on this person's part until I not only blocked them, but also reported the messages to Facebook as harassment.

The final message they sent was something to the effect of, "You may block me, but I'm still going to see you in real life because Austin is a small town and I want to look you in the eyes. I can still see you on Tweetdeck and I can still read your Statesman blog."

That's normal, right?

Seriously, I don't want this fucknut (allegedly) to have anything to do with me, or my family, or anyone I know. I asked them to stay away, stay FAR away, if they ever see me in real life. I can only hope that this is the end of that very lame chapter of my social media life.

I am very trusting online because I always feel I can take care of myself, but when it comes to a place where I've posted pictures of family members and regularly talk about my personal life, I'm not willing to take chances on people who seem increasingly unbalanced. Feedback I've gotten from other people (including people who know the person much better than I do) give me even more reason for concern.

The sad part is that I've gotten a lot out of the friendships I've made online and this makes me want to just disengage completely and shut that door. It sucks to feel that way.

Wish me luck. I really want this all to be over so I can go back to being online without watching my virtual back.
---
Sunday, July 12, 2009
The mom bloggers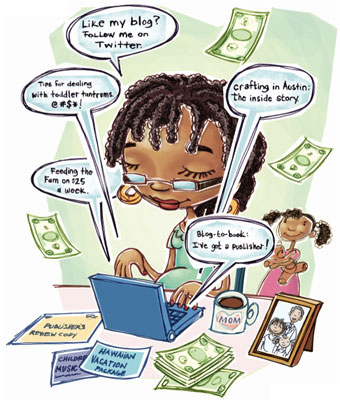 Illustration by Don Tate II, Austin American-Statesman
About a month ago, an editor named Brenda Bell came by my desk to talk about the case of Emily McDonald, a woman accused of putting human waste into her daughter's feeding tube at a hospital. The story had just hit the news. I had read the article and knew that the woman had a mom blog where she'd written for years about her children. I'd never read the blog itself, but we discussed what we might do with a story that talked about what happens when you put your life out there so publicly and when reality and the perception of that reality would seem to collide.

That's not exactly the story I ended up writing, as the conversation ended up shifting into the larger world of mom blogs and how they've changed in the last few years. The McDonald case is mentioned in a Sunday Life & Arts feature I wrote for the paper that ran Sunday, but the weeks I spent reporting put it in perspective. It was a very singular incident among the thousands and thousands of Web sites that make up the landscape of mom blogs.

With topics like this, that involve so many people who know the subject much better than I do, I tend to freak out and over-report to make sure I don't make any mistakes or miss anything. That was the case here. I ended up with 94 pages of type-written notes, including a giant report from Nielsen Online on digital moms and the "Power Mom 50."

There was so much more I'd have liked to have included in the story. I left one whole blogger out because of space constraints (I tried to make it up to her with a blog entry using some of that material). I didn't even get to mention the Motrin Moms debacle or how daddy blogs fit into the equation.

But overall, I think the piece turned out well and it may springboard into a future NPR segment, too. The lovely illustration by Don Tate above almost makes the effort worth it alone.
---