David Copperfield has a little surprise for you.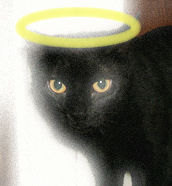 God bless her skinny little soul.
So my cat died.
It was very unexpected. I thought Cosa had this whole hunger thing licked. But when her bones started decomposing... well, that's when I knew that maybe she'd miscalculated her stamina.
So close. She missed the 30 day mark by only a few hours.
And I had some Tender Vittles waiting for her, too.
I got really sad over the weekend about the sudden and unexpected death of my hunger striking cat, wondering if somehow I could have prevented this. I decided, "No, not really."
But then, as sometimes happens, Jesus came over to my house. He saw that I was sad.
"What troubles you, my son?" He asked. (You have to capitalize His name like that. He gets annoyed if you don't. Same with God. Both of Them.)
"Well, my cat is dead."
"The one you starved?"
"I didn't starve her! She was on a hunger strike."
"Oh. I wish there was something I could do."
"Yeah."
Then, Jesus made the image of a lightbulb appear over His own head. "Hey, what's today?" He asked.
"Sunday.
"Easter Sunday?" He asked.
"Yeah..."
"Dude, I got it. Totally. Don't worry."
And then he RESURRECTED COSA! On Easter! Oh man, she was totally glad to be back, and we ate lots of chocolate and, well, things are back to normal. Except for her having died and all.
So, all's well that ends well. Thanks, Jesus!