OMAR: Yo, Myst. What's the nooky on the cranny box?
MYSTIKAL: What? Who the fuck is this?
OMAR: It's Omar.
MYSTIKAL: OMAR! Hey, motherfucker! How's your family, bitch?
OMAR: They are quite fine. Outstanding, actually.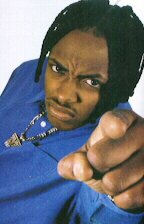 My hero
MYSTIKAL: Well fuck my back pocket and steal my change! What can I do for you, shit picker?
OMAR: Heh. That's pretty funny.
MYSTIKAL: Yeah, I know. That's on my next album.
OMAR: Oh, I almost forgot why I called. I need you to hook up with Fred Schneider.
MYSTIKAL: That plumber guy from One Day at a Time?
OMAR: No, FRED Schneider. From the B-52s.
MYSTIKAL: That fruity guy?
OMAR: Yeah. That's him.
MYSTIKAL: Goddamn, baby. That bitch's career is in deep freeze.
OMAR: I know. But you, my friend, are like those scientists in that one movie about the Iceman where they unfreeze the Iceman and try to integrate Iceman into society, but then he jumps off an icy cliff because he can't deal. Just like in that movie about the Iceman.
MYSTIKAL: That movie is called "Iceman."
OMAR: Oh. Well, can you help?
MYSTIKAL: Let me think about it. This is the kind of shit that can fuck up a brother's career. Remember Hammer?
OMAR: No.
MYSTIKAL: You see? Lemme see what I can do.