1/15/03
Taking the town, cable car style...
The Bay Area is one of the only other place in the country that I'd want to live outside of Austin.
Maybe it's because the last time I was there, I had such a wonderful time: I had lots of time to explore, to visit with friends, to absorb the city and the good vibes, and do it all on the company dime.
Ah yes, the company dime. My favorite of all dimes.
Three things have prevented me from moving, though:
1. I don't have a fucklot of money. A dryhump lot, maybe, but not a fucklot. Not yet.
2. The LCP and people I'm close to here. I have a lot deeper roots here and to Oklahoma (only a six hour drive away) than I've had anywhere else in my entire life.
3. The inclines, man. Have you seen those hills? It's like being at the gym all the time.
This weekend, though, I didn't feel the need to go see everything and do the town. While Patty and Kara and Karinna were jazzed about seeing Haight & Ashbury, I was like, "Do I really need some funky smelling hemp products?" I skipped Golden Gate Park and Chinatown (the one bit I regret missing), but did revisit Fisherman's Wharf and had some kickass lobster bisque in a bread bowl.
In fact, it seemed the whole weekend, apart from our performances, centered around eating. As soon as we got there, Patty was dragging us down city blocks in the rain to find this Italian restaurant that her friends recommended and that she was trying to book weeks in advance. Turns out the restaurant was fabulous, the owner greeted us like we were Italian royalty, and the waitresses were, um, stunning. Like remember that lady mob lady from The Sopranos in Italy that Tony fantasized about conquering? They all looked like that. Man. And the food, yeah, the food. Bellisimo.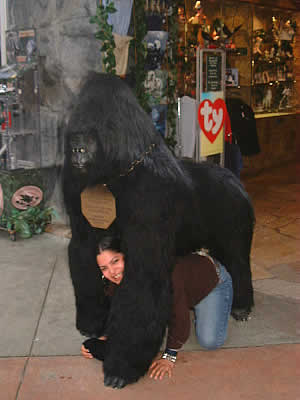 We always knew it would happen: Patty gets humped by a gorilla.
I had great Italian food, great Thai food, great seafood, In 'n Out for the first time (it was all I hoped and dreamed, but still no Whataburger. Sorry In 'n Out).
But there were wonderful surreal moments the whole weekend. There was the deja vu of Seattle, of being in a different city with a group of people you know as "Austin people." Traveling with them, sharing rooms, eating out together, being a unit. We're growing together, learning together, becoming less like co-workers and more like family. Last trip, we all annoyed each other on some level. This time, we bonded more, fought less, laughed constantly, drank together, ate together. I know Mical feels this way too, but it finally feels like we're going somewhere. Like this isn't just something we do until we all find success elsewhere. Maybe this is the thing we're supposed to be doing with our lives right now. It feels right, it feels fun, and it feels like we're really good at it. Other folks seem to agree. At one time, I was so frustrated I wanted to leave the group. (Okay, more than one time.) Now I can't imagine not being a part of this.
There was the moment when we were at In 'n Out, Adam, Joaquin and I, savoring our fist bites of that burger I've always managed to miss on my trips to California.
We're there, ordering at like 11:30 at night. And this girl comes up to us. She's maybe 23 or 24. She tells us she's with a Christian group and asks if we want to play a board game that one of her friends created.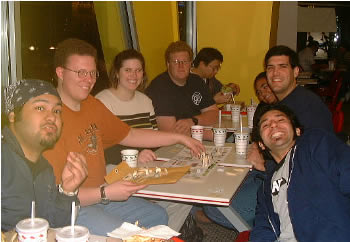 With the Christian gamers.
The game looks like it's on a placemat from McDonald's with tons of tiny paper pieces and I swear, they had to be making up the rules as they went on. (Oh, if you haven't figured it out, we did join in.) They were like, "Okay, you landed on the stadium, so you have to fight the alien and pay three dollars for the two-by-four." They all seemed to understand it perfectly, and would have very polite arguments: "No, wait, I thought it was four dollars to take the alien's place at the laundromat." "Yeah, but you have to draw an item card and slay the wizard with the garden shears."
Joaquin, Adam and I were so hungry that we just ate our burgers and didn't say anything. Plus I was getting frantic calls from Adrian that I had to drive the minivan and pick everyone back up to get our checks and go back to the theater. Then I come back in and Joaquin and Adam are suddenly enthralled in the game and not wanting to leave. I think they did some of that Christian board game mind meld on those boys.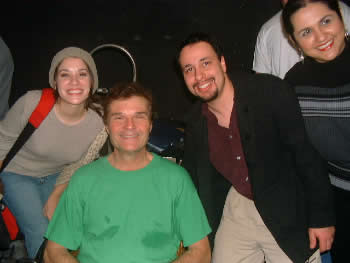 No, he's not lactating. Backstage with Mr. Willard.
There was us backstage with Fred Willard and he was so nice to us, as were the other members of his troupe, who said great things and one of them even partied with us back at the hotel the last night we were there. He was this tiny, energetic guy who does a lot of animation voice work (he also played the nerd in the movie "Summer School," a fact that still gets him recognized today) and he would say, "Okay, goodnight, I'm going to bed," and then 10 minutes later he'd be back partying with us again.
The partying.
The first night we went to a bar, had lots of drinks, stayed up almost the whole night at a diner (Karinna? Drunk girl.) and hung out with members of Totally False People, who hosted the Sketchfest.
So I got back to the hotel at 5 a.m. and went to sleep. At about 9 a.m., my phone rings and it's my high school buddy Troy, whom I haven't seen in 10 years, saying he's on his way over for breakfast.
What could I do? I couldn't be like, "Yeah, I'll just catch up with you at the reunion." So I dragged my ass out of bed while Adrian, sleeping in the next bed, laughed at my predicament. Nick, on the other hand, was sleeping in the big closet, where we'd set up his cot. He was Harry Potter without the owl.
Catching up with Troy was great, as was breakfast, but I was running on about three hours of sleep and had a performance that night. Which is why I didn't end up seeing a lot of the sights that day.
That night, we performed, and it was amazing. The audience was sold out because we were opening for Fred Willard's troupe (I think an article about us that appeared in the San Jose paper might have had something to do with it too). We did great. We were focused, we threw our stuff down and we rocked the house.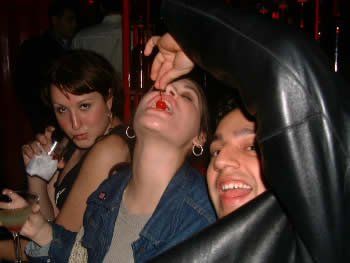 At the Red Room.
That night, we were trying to find out where the after party would be, little knowing that we WOULD be the after party. We went to The Red Room, which was connected the fabulous hotel we were staying, then bought some beer and vodka and mixers. Do you know how lucky you are, California, that you can buy liquor until 2 a.m.? I commend thee.
So we brought all that stuff to the hotel and just kind of hung around. Adrian, Nick and Adam were geeking out in our room, watching an Indiana Jones movie. I told Patty and Joaquin, "We are NOT partying in there." Turns out we would: Nick and Adrian set up our portable projector with a portable DVD player and suddenly, our room was a movie theater showing Shaolin Soccer. (I guess it wasn't an extraneous travel item after all.)
People from other troupes showed up. Girls from down the hall who were throwing a 30th birthday party showed up. Joaquin put on a kung fu outfit he bought in Chinatown, complete with slippers. Zee Germans, a group of people from the German Film Festival showed up. In fact one of them, a girl, came and drank our beer, then went to her room and called to complain about the noise we were making. Isn't that just like the Germans? To show up to a party thrown by minorities and break the shit up?
For a while, though, there were about 20 people crammed in our tiny room and The Geekest Room Ever was suddenly hip and cool.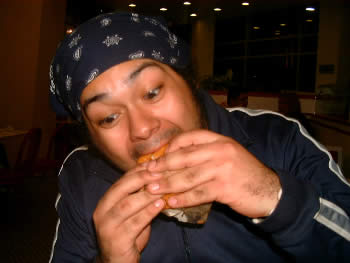 Adam tastes the glory of In 'n Out.
We finally moved the party downstairs to the lobby. That's how cool the hotel was. It was called The Commodore (just like Lionel Richie's group!) and the guy working that night, when apprised by Zee Germans about the noisy Latinos, he just let us move the party, with liquor, to the lobby. If you're ever in San Fran, go stay at The Commodore. They love party people.
We stayed up all night. All. Night. I didn't even try to sleep. I went upstairs after our self-thrown party and it was time to pack and get the minivan and drive down to San Jose to the airport. I was Minivan Man all weekend, driving the LCP around the whole time up and down steep hills and getting conflicting directions yelled in my ear until I thought I was gonna strangle someone with a ripped out piece of floor carpeting.
Then I had to drive like an hour and a half on two days no sleep while Nick slept next to me in the passenger seat. Every time someone would yell at Nick to stay up and keep me awake, he'd yell out something bitchy. It was kind of fun because I'm used to seeing Nick sweet and happy, not sleepy and pissed.
We got back on the flight (I think all of our checked-in bags were searched: Some of us got little papers in our suitcases saying they'd been gone through. No joke: Patty says she's missing two bras that she's sure were packed), came back to Austin, and basked in the glow of a trip where we did exactly what we set out to do. It's kind of magical when things work out that way.
---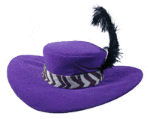 Big pimpin'
Here's the article that ran on us in the Mercury News and the review from the San Francisco Chronicle. Damn. That's some good stuff right there.
And that's it.
Quick battery update: My laptop battery still sucks, but now my AC adapter is broken, too. I called Toshiba and they were nice enough to say they'd give me a new battery and stuff, and to go to CompUSA or Radio Shack. I go to the Comp of America and they tell me they don't do that at all and that I'd have to send my laptop in for a week. Well, fuck that. So I called again and they told me there is ONE place in all of Austin that does work for them. It's called Austin Ribbon and Computer Supply. Okay, "Ribbon?" Who the fuck still sells typewriter ribbon as a major business? Sigh. Plus I've lived in Austin for six years and I don't recognize the street name of this place. Shady, no? I'll let you know how it goes. Their Web site looks professional, but still. Any fool can put up a Web site.