Here's why the guy at the Days Inn in Chicago wants to kill me.
We were checking out Sunday (the first of two checkouts for me -- I had to be in two different rooms in the course of the conference) and as I was waiting for a form to print out, I told the guy at the front desk, a youngish bald guy, this:
"So, do you guys ever, like, play softball against the people from the Comfort Inn?" The Comfort Inn was right across the street and I thought it was funny that the two similarly named hotels were so close to each other and are so similar in practically every way. "Do you all have like a league or anything for that?"
He looked me square in the round eye. "Like, uh, no." he said. Just like that. Mean-like.
And I shriveled like a little girly tulip. I signed my receipt and took my bags and went away. Later on, forgetting about Meany McHatesmyjokes, I put a Terribly Happy sticker on the front desk phone. I thought I was all clever for tagging a phone that the people on the business side of the desk couldn't see.
And then after I left Monday I realized that the guy could easily look me up and exact some sort of awful revenge. He could send me some of the anthrax. It's not like he can't find me address.
So, please, Mr. Mean Hotel Guy. Don't send me any anthrax. It's enough that I have to deal with that at my newspaper. By the same understanding, I will attempt to recognize that what I said might have been interpreted as at best silly and at worst mean and sounding like I was making fun of you. I wasn't.
Let's be friends. I can be your ringer in the outfield.
---
Sunday night I saw Bjork perform at the Chicago Civic Opera House. I may write an entry about it later this week because right now there are too many other things to say and I want to savor the memory for a bit before I uploaded it and file it away as writing.
She had an orchestra. She lit up the stage. She was wonderful and magical and a piece of me is still there, floating three feat about my third-balcony cheap seat.
Here's one thing, though. She wore the Swan Dress. Yeah. That one.
I was kind of aghast, but also secretly pleased.
At the very least, one thing was resolved: I think I know what I'm wearing for Halloween this year.
---
Everybody took pictures at JournalCon. Everybody but me.
I took my camera. I even bought some extra memory for it so I wouldn't run out of space in the digital camera, as has happened before.
But I left it in my suitcase the whole time. I was too busy having fun, drinking a lot, getting wired and buzzed.
I finally took one picture, just hours before I left for my return flight. Here it is: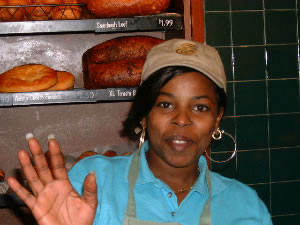 This is the lady that served me coffee this morning and a really good cinnamon bagel. I didn't catch her name. But she was really cool.
I drank lots of coffee in addition to the liquor and the Jamba Juice. I also made a revelation -- all that coffee is why the Gilmore Girls talk so fast! I talk fast when I drink lots of coffee, too! Wish I could drink it all the time. In my real life, away from trips to other cities, drinking coffee just leads to not being able to sleep.
So. I talk. Um. What's the word? Slow.
Yeah.
Slow.
---
Speaking of coffee, it was just one of the many substances I inserted into my body (hey, shut up) to cause it bodily harm. I smoked a big cigar. I ate lots of food (delicious, but swimming in grease. Even the delicious Spanish olives and the deep dish pizza).
And then the liquor.
Ya'll. I haven't drank like that in two years. On one night, I had: