THE VOICE OF INVENTION
Austin American-Statesman
Technopolis
Published: 02/04/2000
By: Omar L. Gallaga

Thank you for calling Anycorp Inc. Please make a selection from the following menu:
Press one if you are calling for sales
Press two if you are calling for live technical support.
Press three for our automated support.
You may press zero at any time to speak to an Anycorp customer representative.
(0)
Tranferring...
We're sorry. No customer representatives are available to take your call.
(Beeps, ringing)
Thank you for calling Anycorp Inc. Please make a selection from the following menu.
Press one if you are calling for sales . . .

Gordon Matthews, a ruddy, tall man who lives in Austin and works mostly in Dallas, didn't want it this way. But he will be blamed for it for many years to come, and he is very aware that this is his lot in life.
"I always say half the world hates me, and the other half loves me,'' Matthews says.
He invented voice mail (the patent is #04,371,752, Feb. 1, 1983, if you care to check). And if you've got something to say about it, and it's not nice, well, you can just leave your message in his voice mail box.

The Patent Keeper (not from Oz)
It's a small office, with a little conference room that looks like a lot of conference rooms do now: malnourished. Gone are the days of mahogany furniture, ominous windows for crazy powerbrokers to jump out of, big leather chairs to hold three-piece-suited heinies. This is instead a small room housing a plain medium-sized table, white walls and a guy who looks very friendly, like your uncle at a barbecue, the one who always knows exactly how to fix the copper wiring inside a malfunctioning walkie-talkie.
His name is Gordon Matthews, and 17 years ago he invented voice mail. Right now, he is holding in his hands a different patent, the physical manifestation of the concept . It is a small, beige pamphlet. On the front is a shiny gold crest with a red ribbon, like something you'd win at a chili cook-off. But this certificate, United States of America Patent #5,809,111, is from "The Commissioner of Patents and Trademarks.''
The Commissioner is not the Wizard of Oz, but there is still a bit of gizmo-envy wonder. He Who Keeps All the Patents.
It can cost a lot to register a patent, sometimes up to $10,000. But once you have it, you are a real inventor. Gordon Matthews, 60, and the companies he's founded have 44 of these beige patents. The patent Gordon Matthews is holding now contains flow charts, diagrams, and all the information necessary for "one skilled in the art,'' as he says, to build a device such as the one his company recently invented.
Matthews and his latest company, Richardson-based PremiseNet, have invented a device called MAXX, which brings voice mail capabilities to home phones. Matthews, whose company has offices in Austin, came up with MAXX for many of the same reasons he invented voice mail. It's the same reason all garage scientists tinker with toasters: He saw a little problem, an inconvenience, really, and decided to fix it. That's how it starts.
"Things that irritate me are what make me invent things,'' Matthews says.

How voice mail started
Gordon Matthews was on a business trip for the second company he founded, Action Communication Systems in Dallas. He was dealing with a client in Colorado, and was having a hard time contacting the home office. "I had time zone problems, I had telephone tag problems. People would call me back and I wouldn't be there,'' he says, relaxing in the lounge at the Four Seasons.
"The only reason I have patents is that I see something that bothers me. I mentioned it to my wife; I said what I need to invent is a computer so we can leave messages to each other. The other people can pick up the message, reply to it or redirect it."
Matthews smiles. "That's how the idea was born."
Fast forward (or press six to skip ahead a few messages): With Action's blessing, Matthew's formed a new company, VMX, in Austin. By the time the patent was registered in 1983, VMX consisted of a secretary, three software engineers, a hardware guru, and Matthews. 3M, the manufacturing giant, was VMX's first big customer. People could access huge, networked databases of messages and get to the boss's recorded tirade in 1/50,000th of a second.
Remember, this was when many computers still looked like oversized refrigerators and data was sometimes delivered on enormous floppy disks.
"To be able to call and get any message like that was a technological breakththrough,'' Matthews said.
Drew Kraus, a senior analyst at Dataquest who covers the messaging industry, once worked for VMX, a few years after the initial voice mail patent. Amazingly, many companies couldn't see any use for voice mail in the early days. "We had to do a lot of evangelizing to explain how a voice mail box might be useful to their business,'' Kraus said. "Trying to make people understand it as more than just an answering machine took some effort."
Now, he says, it's considered a logical extension of the telephone. All the offshoots of voice mail and business phone service (now known by the wholly nice and ambitious moniker "Unified Messaging") accounted for about $3.1 billion in sales last year alone.
Skip ahead a few more messages, and you live in a world where everybody has voice mail. The kid who delivers this paper? He's got voice mail with fax capabilities. His elementary school teacher? She checks her voice mail online. The moments we miss each other have become bits of tiny data that we can reach from anywhere. Humans as communication tools as convenient, or inconvenient, as they want to be.
Don't hang up yet. There's a little bit more.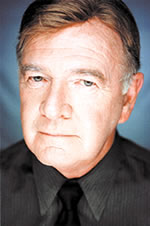 Gordon Matthews
1936-2002
Peter Yang /American-Statesman
In voice mail, no one can hear you scream

Which brings us to the dark side, the dirty little secret of voice mail. The one that frustrates indiscriminately, the one that you could cite if you were to list the reasons why civilization is almost certainly breaking down.
You call someone. You need to talk to them. You get their voice mail.
You call a company. You really need to talk to someone. You get voice mail.
You really need an answer to your question, but nobody answers. You are routed, this way and that, through automated menus, like an abused pinball with no destination.
This is why many people, even those who live on the capabilities voice mail brings them, use the term "voice mail'' in the same breath as "rotting, boiled onions."
Even Matthews, the guy who got this ball rolling, hates it. "When I call a place of business, I expect a human to answer and I expect them to be knowledgable and polite and do what I'd like them to do."
Voice mail and what are called "automated attendants'' are two different things. And Matthews can tell you exactly how the dreaded "attendants'' began. One of the first VMX clients was Security Pacific Bank in San Francisco. "They asked me one day, 'If our phones were busy and not answering, could it take the call?' I said, 'Yes, but I don't want it to.' They said, 'If you want to sell us the system, you will.' ''
A sad day, that one was. Gordon Matthews knows he will be forever linked with it, too.
It ushered the era of what he calls "voice mail jail,'' the place we've all done hard labor at one time or another. It's allowed many businesses to serve customers 24 hours a day. It has created more efficient ways to get information.
But, Matthews said, "It was sort of the beginning of people hiding behind their phones, not wanting to talk to people."

Calls to War (the ones that got away)
For a time, Gordon Matthews was one of the tallest Marine fighter pilots in the military at six feet, three inches. That was when he flew, before he started his businesses, from 1959 to 1964.
I ask if he ever did any combat flying.
"I missed everything,'' Matthews says. He's standing outside, squinting against an unseasonably, but not really surprising sunny winter's day in Austin. Matthews flew in the calm between Korea and Vietnam.
He missed it all. Or rather, the wars missed him. Like leaving work just before an important phone call comes in.
It all goes to your voice mail anyway.

Your home is your life is your work

This time, it was boredom, not annoyance, that got Gordon Matthews going. About four and a half years ago, long after his original company was acquired by Octel (which was acquired by Lucent in the big-fish, little-fish way of the communications industry), he was feeling restless.
He began researching the way people use their home phones. "I was thinking, how many times have we been having dinner and the phone is ringing with people selling things? How many times do we pick up the phone and it's for somebody else and we have to take a message?"
In his own home, Matthews found himself yelling up the stairs, relaying calls to his daughter Christina, or his wife Monika. Back to the metaphoric garage he went, and when he and a new company, PremiseNet, emerged, they were ready for their patent, Mr. Commissioner.
What came out of Gordon and his 14 employees' tinkering is a slender black box that can connect to almost any phone. At each extension in the house, another small black box is attached. The system, called MAXX, creates eight voice mail boxes from a standard phone line. Mom, dad, Elroy and daughter Judy can all check their messages on their own phones at the same time, without interrupting each other. Faxes can be routed, passwords can protect messages and a nifty Do Not Disturb Button saves dinner from getting cold because of thwarting telemarketers.
Gordon Matthews calls it a call-manager system. Debuted at the Consumer Electronics Show last month, the system won an "Innovations'' award. It will sell for about $700 for a basic kit, a price Matthews defends. "People want to control their communications at home. It meets a real need to control the annoyance of telephone."
He says he sees it as piecing together many of the components the phone company offers at a monthly charge.
Matthews will most certainly have competition. Southwestern Bell, for instance, has Call Notes, its own voice mail service that customers can opt for.
Natalie Ochsner, a product manager for the company, says Matthews is one of many people trying to get a foothold in the future of voice mail. "There's all sorts of voice mail trends in the pipeline,'' she said. "The number one we're working on is unified messaging, where you'd be able to access your fax, e-mail and home phone messages all from one source."
Matthews' MAXX system doesn't have e-mail capabilities -- yet. But, he says slyly, there's still a big wide open future and his company will be tapping into what the Internet has to offer. "There's incredible happenings in the Internet space,'' Matthews said. 'We now have the greatest tools I've ever seen to create solutions to problems everybody has. There seems to be a social mindset looking for solutions.''
Although it's a much more crowded field in the land of telecommunications now (we live on cell phones, fast Internet, Digital Everything), Matthews thinks MAXX will be truly useful -- as useful, at least, as the voice mail system he created almost two decades ago.
It should be noted, for the record, that reaching Matthews these days is not easy -- he always seems busy, and it took multiple messages to his voice mail over two weeks to reach the man. But he did answer. Finally, he answered.
One thought: it could be that Gordon Matthews spent that time getting annoyed, and from that great things will come.
-30-
From the father of voice mail, here are some tips for handling the headaches of voice mail:
Callers should:
• Listen to all of the options associated with leaving a message and use them if appropriate -- for instance, specifying immediate delivery/notification.
• Leave a complete message, not just say "This is Gordon, call me."
Voice mail owners should:
• Change your greeting daily to give callers additional information. If you are away for a week, then let callers know that.
• Be prompt in picking up messages and returning calls.
• Not "hide'' behind your voice mailbox; if the phone rings, answer it.
Business owners should:
• Not let voice mail answer your business number during the day. Instead, use a professional, knowledgable person to greet your callers/customers when they call. Only use voice mail to answer your business number after hours or during times of heavy telephone calling.