03/21/01 (continued)
Even more PR tooth gnashing...
Fashion Week reviews from the runways in New York, Milan and Paris The eLUXURY Magazine offers front row insight into the latest trends, hottest products, and exclusive fashions as they come down the runway. eLUXURY readers will have an insider's look at Fashion Week with daily reviews straight from top designer shows, such as Donna Karan, Michael Kors, Christian Dior and Louis Vuitton.
My heart is beating faster. Is that normal?
Fingertip access to the hottest, hard-to-find luxury brands in the categories of Fashion, Beauty, Home, Gourmet and Leisure.
It is at this point that I've not only stopped reading, but that I've called a psychiatrist to try to find a way to mentally block the images this press release introduced into my mind.
eLUXURY redefines online luxury shopping by bringing more than 110 of the finest brands in the world to the Internet (many featured exclusively at eLUXURY), including Louis Vuitton, Bvlgari, Salvatore Ferragamo, Baccarat, La Perla, by Terry, Christian Dior, T. Le Clerc, Thomas Pink, Bernardaud, Alessi, Dom Perignon, Connoisseur Brands Caviar and Christopher Norman Chocolates.
"Bvlgari." Hee hee. That's a cool name. He probably went from being a cold-blooded Eastern European contract killer to doing fashion design after the Cold War. And then Sergei, his ex-partner comes in and asks him to do one last assassination of an opposition leader.
Sergei: Alexi Bvlgari. Your former government needs you.



Bvlgari: No. I cannot leave my hand-stitched leather handbags.
Oh crap. There's more press release:
- more - Page 2 of 2/eLUXURY.com
This is funny because it's in an e-mail.
Online Personal Shoppers: eLUXURY e-concierges Specially trained customer service representatives offer personalized attention by phone, fax or e-mail. Whether providing expert details about the leather and stitching on a particular handbag or helping callers pinpoint that perfect gift for someone special, eLUXURY's e-concierges can be reached by calling (877) 890-7171 or via email.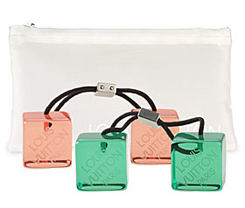 I still can't get over the hair cube thing. People pay actual currency for this, right?
This is, my guess, the most rewarding job in the world. Screw cancer research. Forget helping the homeless. You are best serving the needs of humanity by helping an exceedingly rich person who doesn't even have the self-motivation to click a few mouse buttons to find that perfect $4,000 Tubogas bracelet.
Can you nominate yourself for a Nobel Peace Prize for that? Because, sir, you are on your way.
"Luxury is now accessible to everyone via the Internet," said Ronni Heyman, style director for eLUXURY.com. "eLUXURY provides the perfect solution for fashion trendsetters who may not have access to designer boutiques or who simply enjoy the convenience of shopping from home."
Ronni is bringing luxury to the masses. So, all of you fashion trendsetters in Boone County, Nebraska -- be on alert. You don't need to book any more trips to Milan. Ronni is going to change your life.
eLUXURY is the authoritative address for Today's Style, Tomorrow's Trends on the Internet, offering a selection of the world's most renowned luxury merchandise and services, all delivered with unparalleled attention to detail and customer service. eLUXURY is owned by LVMH Moët Hennessey Louis Vuitton SA Ð the world's leading luxury products group; Europatweb, the Internet industrial arm of Group Arnault, which is privately owned by LVMH's Chairman and CEO, Bernard Arnault; and by the Company's management, either directly or through stock options.
Booooring. Give me more fashion! Make me palatable! Change my life, Ronni! Ronni! I love you! Let's run away together and steal designs together! Be my personal fashion adviser, Ronni! eLuxuriate me!
Thus endeth the press release.