One of the things I absolutely love about the Internet, besides the porn and the Bookworm Game (just try not to get addicted to that one), is that you can choose not to be seen for short periods of time and only a few people can really tell the difference.
Last week, I took a week off from work and I got asked at least a dozen times, "So where are you going?"
Nowhere. To my living room. To the kitchen, maybe, for a snack.
I've done this a couple of times now, taken time off from work to do nothing better than sit in my home, play lots of video games, read a few books, watch loads of TV, go to the gym more often than I get to in my "real" life, go to the movies, mow the lawn, give the cats some much-needed attention, buy a drill and drill holes into the wall (this is called "ventilating"), that sort of thing.
It's a vacation, but you don't really go anywhere. But somehow, it ends up being far more restful and invigorating than a trip to Paris.
And online, I laid even lower. I tried to stay off the chat if I could help it. I still checked my e-mail impulsively, even the work mail, but I told myself that this was more like a small lifeline to the real world, a tether that I could rein in if I needed to do so.
I had planned to spend the week doing lots of writing on the novel (which hit the 18,000-word mark recently, which sounds like a lot, but isn't when I consider I write about half that every week in my recaps and I've been working on the book since January), and that didn't really happen. I produced two whole paes the whole week. I did get a recap done faster than I ever have written one before, but that was because I had no real excuse to put it off. It was that or sit in a tub and read the comics pages.
I fit in a bit of a social life in there -- I spent time with the Pineapple (my thinking: if you're taking vacation, you should spend at least a portion of it during the daytime with an unemployed friend), did a writing exercise with Andy and Greg over coffee, went to see Mister Sinus Theater 3000 for the first time (brilliant, brilliant, brilliant. So much fun. They did Masters of the Universe, the awful Dolph Lundgren He-Man movie), went to the theater for a few movies (Imax's Santa Claus vs. the Snowman: Good; Harry Potter and the Sorcerer's Stone: better than the first movie; Treasure Planet: eh. It left me a little cold.), shipped some moichandise to some kind souls, got a massage (the RMT kind, not the naughty kind).
Mostly, though, it was catching up with myself. The next two months look like a buzz of constant activity and the last few months have been a blur, so it was just a week where time froze, if only for a short, controllable time.
For the first time in a long while, I didn't feel like every moment of my day is spent working. When I go to the movies for a screening, even if I'm enjoying myself, there's an element of work there. I'm filing details away for a review or thinking ahead to editing that. As many video games as I play, I always have the duty of thinking about what I'm reviewing next and what I'll say. Ditto TV shows, stuff I read on the Web, magazine articles, anything in the news. The only thing I really can enjoy without filing mental notes is the radio, and that's only because my work duties don't involve music.
So this last week, I was able to shut that off. I could just immerse my head in all these little worlds and not feel pressured to do more than just enjoy them.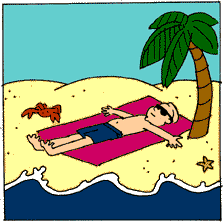 Not like my vacation at all.
What did I learn? First, I can be really really lazy if I don't push myself or have forces pushing at me to do the things I do. If I didn't have a day job, I probably could never make it as a freelancer. For a few moments during the week, I pretended that this is what it would be like to be a freelance writer, or to work from home. But, no. People who do that actually have to work and I mostly just puttered around, figuring out what I was going to make for dinner, browsing at the grocery store for hours instead of just grabbing what I needed, clearing out my storm gutters after some hard rain. I know freelance writers are versatile, but I'm not sure any of them get paid to buy groceries and clear out rotten leaves from the storm pipes.
I also learned that my head gets cluttered, just like the hard drive gets fragged up and my bathtub collects a ring over time. Sometimes, I need that week of nothing to just stop talking, to stop these strings of words, to just settle. I don't like silence, but sometimes it seems like the absence of sound is my salvation. Sometimes I can't hear over the din in my own head and the only thing that ever seems to help that is time alone.