Continually updated...

ARCHIVES
Friday, March 19, 2010
10 Ways to Annoy a SXSW Band
Every year, thousands of bands come to the South by Southwest Music Festival to try to live out their dreams of playing in front of great live audiences. Here are 10 ways to crush those dreams (or at least annoy the band a little bit while they're in Austin):



Ask, "Hey, can you guys play 'Rocky Raccoon?' "

"Where are you playing? ... Didn't that place burn down last night?"

"If you need to replace some clothes before your show, there's a sale at Ross this week!"

"Didn't you guys have a song on 'Gossip Girl'?"

"It would be cool if you were playing the main stage, where more people could see you."

"What do you think of 'American Idol' this season?"

Tell them nobody who lives around here wears cowboy boots, cowboy hats or bandanas until Halloween.

"Your band sounds like flaming lips. Not the band, but an actual set of lips that are on fire."

(To the whole band) "Are you all in town for South by Southwest Interactive?"

"Oh, South by Southwest? Is that this week?"
(Photo credit:
---
Talking SXSW Interactive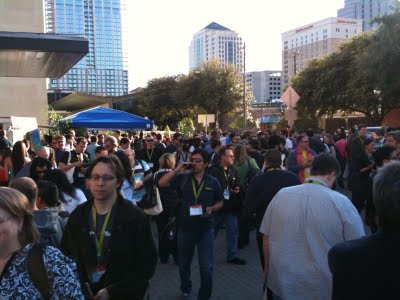 The SXSW Interactive Festival, which I cover every year, was bigger than ever and it sure felt like that in my weary bones.

I worked harder than I ever have before at the fest and also overdid the staying out late and socializing too much. But, strangely, I didn't really feel any ill effect. I didn't get sick and I caught back up on sleep in the two days since it ended (which was on Tuesday). What really killed me was the damned time change on Saturday and my inability to skip work to go have relaxing meals or to stop myself from keeping going way past midnight each night.

But screw it. It's once a year and I wait all year to have the opportunity to fully throw myself into a story the way I don't really get to the rest of the year. It's also a time when many old friends come into town and it's the only chance I get to see them all year. In some ways it's the only time I get to stay out late and socialize even with people who ARE in town and whom I see all the time.

It was pretty crazy at home, even with help from both sides of the family and I have to admit, it's getting harder every year to keep up this pace with two little girls waiting at home. The night I was finally finished and came home, Lilly climbed all over me and hugged me like she never has before. She also knew new words and phrases I hadn't heard before and it went a long way toward breaking my heart a little.

All the coverage (not just from me but from about a dozen people on our staff) is here, including panel reviews, news write-ups and videos (I've embedded a few of them below).

Today, I also did a segment for "All Tech Considered" about the fest with some of the highlights. You can read the blog post here and hear the audio on this page.
---